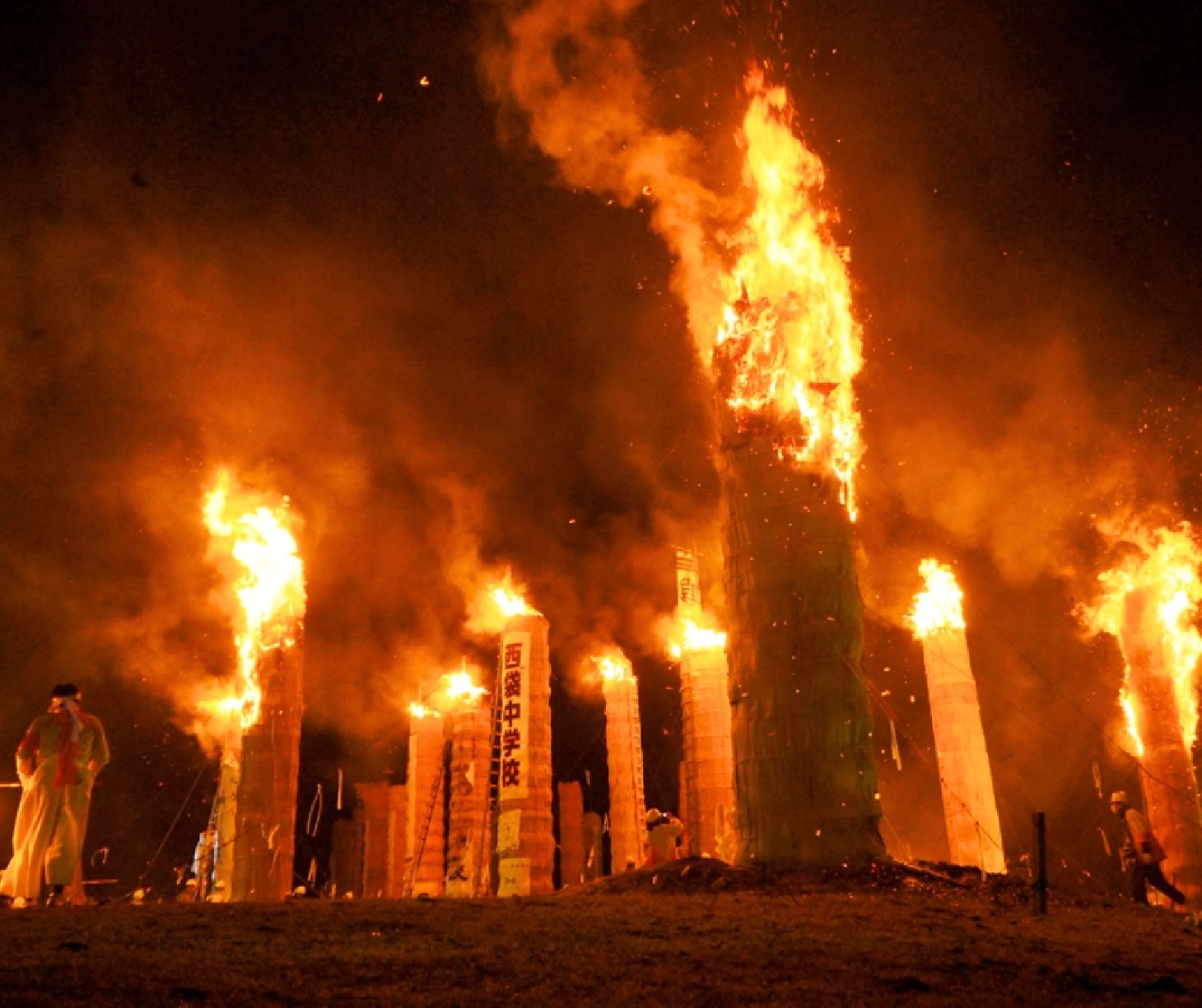 As the heat of summer fades and the cool autumn breeze sets in, Fukushima Prefecture is energized with its autumn festivals. Travelers who visit from late September to Mid-November get to enjoy both breathtaking foliage and rich cultural festivities. Here are some of the festivals scheduled for the fall of 2023:
This is one of the main events in the Aizu area. It features a procession of horseback riders dressed in samurai attire, parades, sword performances, and more.
In Japanese: 会津まつり
Place:

Tsurugajo Castle

& other locations in Aizu-Wakamatsu City.

Date:

September 22 (Friday), 2023: Lantern Procession, Aizu-Mt. Bandai Dance

September 23 (Saturday), 2023: Thanksgiving Ceremony for Ancestors, Procession of Aizu Domain Lords, Aizu-Mt. Bandai Dance

September 24 (Sunday), 2023: Nisshinkan Children's Parade, Drum and Fife Corps Parade

Time: Varies depending on the event
Tickets/Cost: Free to attend, but there might be a parking fee
If you are interested in participating in the parade, consider trying the SAMURAI CITY AIZU Special Program: Aizu Clan Lord Procession & Samurai Experience. The Kengido Samurai Experience is also scheduled for the same weekend as the Aizu Festival.
Iizaka Onsen Town's main yearly event is an exciting 'fighting' festival! Apart from taiko drums and food stalls, what makes this festival unique is the 'yatai' festival stalls that are fiercely pushed against each other as contending groups (each representing a different area of the town) try to get their mikoshi (portable shrine) into the Hachiman Shrine grounds first. More information about this festival and travel ideas in Iizaka Onsen.
In Japanese: 飯坂けんか祭り
Place: Hachiman Shrine. Click

here

for directions to Iizaka Onsen by train from Fukushima Station

Date: Late September - early October (exact date TBD)
Time: Evening (exact time TBD)
With a history spanning back over 350 years, this vivid festival is a highly anticipated event in the central area of Fukushima! Large floats as tall as 11 m are lit up with over 300 paper lanterns and paraded to the beat of traditional music.
In Japanese: 二本松の提灯祭り
Place: Nihonmatsu Shrine
Date: October 7 (Saturday), 8 (Sunday), and 9 (Monday). Held every year on the first Saturday, Sunday, and Monday of October.
Time: Depends on the event
Tickets/Cost: Free
In Nihonmatsu City, autumn brings beautiful flowers! The city prides itself on its cultivation of chrysanthemums, the National Flower of Japan, which bloom spectacularly in the fall. Each year for a month, from Mid-October to Mid-November, the Kasumigajo Castle Park Grounds are enlivened with a colorful display of chrysanthemum flowers and decorated dolls.
In Japanese: 二本松の菊人形
Date: October 10 (Tuesday) to November 19 (Sunday), 2023
Time: From 9 a.m. to 4 p.m.
Tickets/Cost: General entry is 800 yen; 600 yen for those with disabilities, and free for middle-school-aged students and younger. Discounts may be applicable for groups of 20 people or more.
Aizu Shiokawa Balloon Festival (Kitakata City)
This local festival in Kitakata City is incredibly picturesque! Riding on one of the balloons requires a fee and previous registration, but spectators can enjoy the sight of balloons rising into the crisp autumn skies for free.
In Japanese: 会津塩川バルーンフェスティバル
Place: Nippashi-gawa Green Park Free Plaza (日橋川緑地公園自由広場) in Shiokawa-machi, Kitakata City
Expected Date: October 8 (Sunday) and 9 (Monday) [to be confirmed]
Time: TBD
Tickets/Cost: Previous application (in Japanese) is required to fly, for which there is a fee. Please check

the event's website (in Japanese)

for more information.
This traditional art form passed on through generations is a fundamental tradition for the inhabitants of Hinoemata Village. There are typically three kabuki performances held each year, the last of which will be on September 2nd this year. For more information, please check our blog post 'Hinoemata Kabuki: A Hidden Gem of Japanese Folk Culture'.
In Japanese: 桧枝岐歌舞伎
Place: 670 Idaira, Hinoemata Village, Minamiaizu District
Date: September 2 (Saturday), 2023
Time: Venue opens at 18:00, performance starts at 19:00
Tickets/Cost: 1,000 yen per person (free for guests staying at the village)
A spectacular fire festival in Sukagawa City, the Taimatsu Akashi Fire Festival has a history stretching back 400 years. As the evening grows darker, the glowing fire and the rhythm of the taiko drums will make you feel as if you were transported to a different era.
In Japanese: 松明あかし
Place: Mt. Gorozan in Midorigaoka Park, Kuriyasawa, Sukagawa City
Date: November 11 (Saturday), 2023
Time:

Main torches (Hon-taimatsu) Procession: 2:00 p.m.

Big torches (Dai-taimatsu) Procession: 3:00 p.m.

Main Event of lighting up the big torches (Dai-taimatsu): 6:30 p.m.

Tickets/Cost: Free
Useful Links
Top 10 Places to See Autumn Leaves in Fukushima
5 Ginkgo Tree Spots To Visit In Fukushima This Autumn