Tsukimigaoka Chomin Center
Tsukimigaoka Chomin Center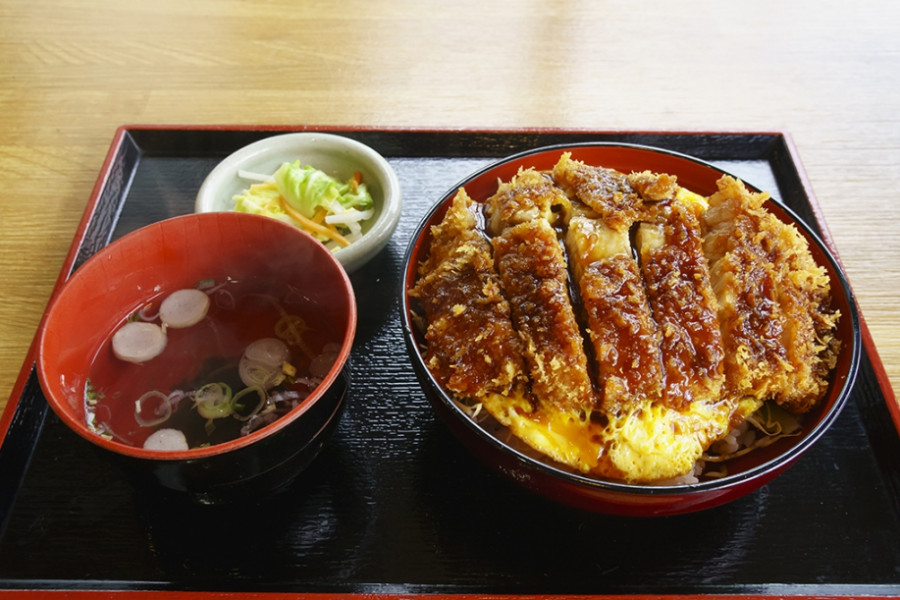 Tsukimigaoka Chomin Center (a town hall-turned-hotel which is only a 20-minute walk from Aizu Yanaizu Station) is known for their famous sauce katsudon lunch.
This dish contains fried pork cutlet and a simple egg omelet on rice which is covered with a savory sauce that simply melts in your mouth. There are other places in Yanaizu that serve the katsudon dish as well, but according to local opinion, the katsudon at Yanaizu Chomin Center is hard to beat. Why not stop by and fill your stomach before taking in the other local sights? There are even some great shared hot spring baths, which can be enjoyed as day visit onsen.
There are plenty of nearby attractions. Enjoy your time hiking or fishing or at the nearby Kiyoshi Saito Museum of Art or the beautiful and serene Enzoji Temple. Kiyoshi Saito Museum of Art houses works by esteemed woodblock artist Kiyoshi Saito and the beautiful works he created throughout his lifetime. At the Enzoji Temple experience tranquility and nature, also learn about the origin legend of the akabeko, the nodding red cow famous in the area. And only a 15-minute drive away you can look at the No. 1 Tadami River Bridge View Spot; this bridge offers a spectacular sight of the Tadami River and the surrounding nature.
Venue Details
Venue Details
Website
http://akabeko.info/(Japanese)
Contact

Tsukimigaoka Chomin Center

(+81) 241-42-2302

info@akabeko.info

Accommodation details

Room charge: Rooms from 7,950 yen (1 night, 2 meals)

Check in / Check out: From 3:00 PM / Until 10:00 AM
Access Details
Access
Suwamachiko 61-2, Yanaizu Town, Kawanuma District, Fukushima Pref. 969-7201
View directions
Getting there

By Car: 35 min drive from central Aizu-Wakamatsu City

By Train: 20 min walk (or 5 min taxi ride) from Yanaizu Station