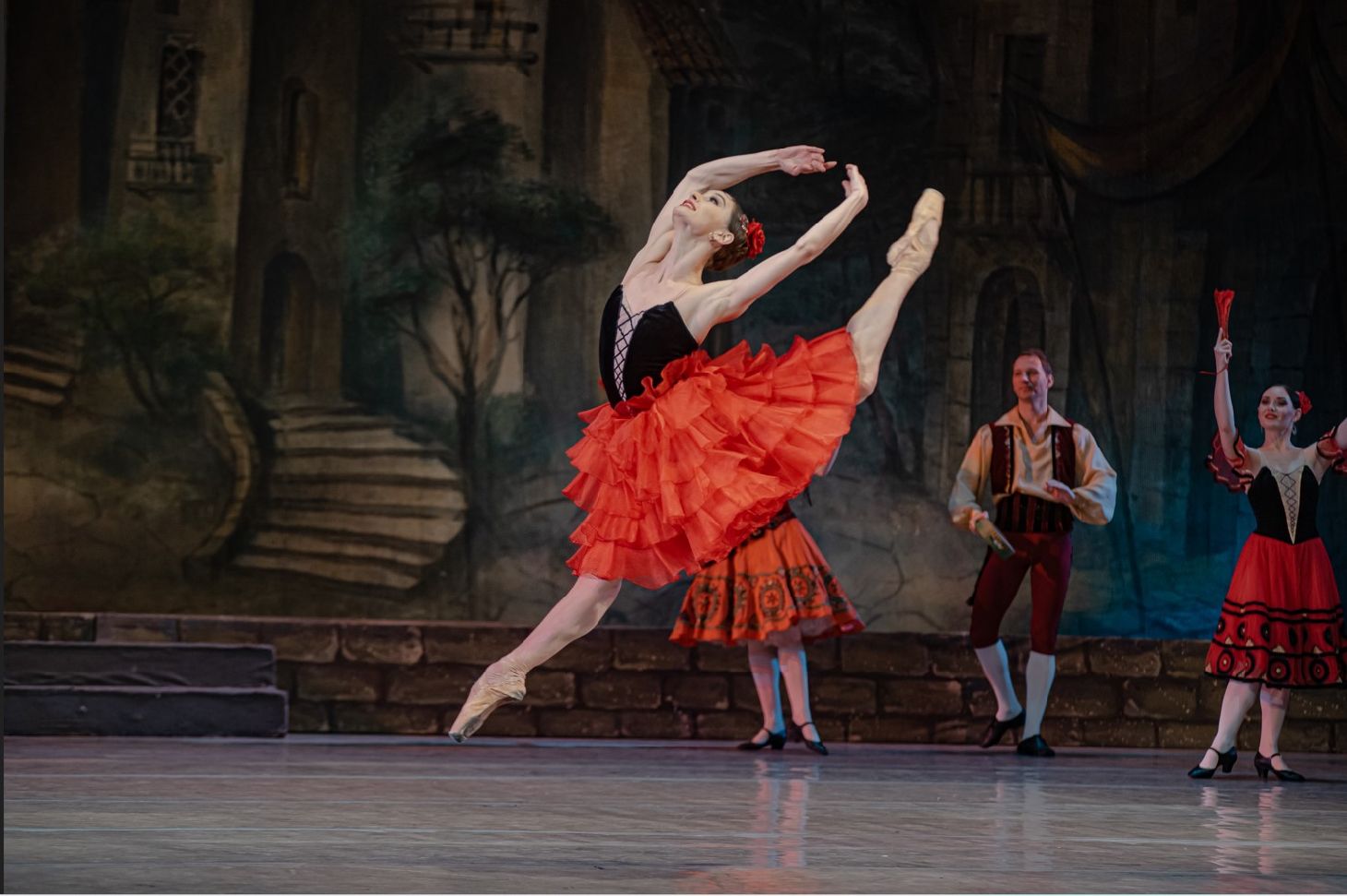 While most of Fukushima is blanketed with snow during the coldest months of the year, Iwaki, a city located in the prefecture's sunny coastline, escapes much of the harshest weather, making it a popular destination.
Here are some interesting events and ideas to make the most of Iwaki this winter!
Scroll to the bottom to find out how to get to Iwaki City (options and prices)!
1.
National Ukrainian Ballet production of "Don Quixote" at Alios Iwaki Performing Arts Center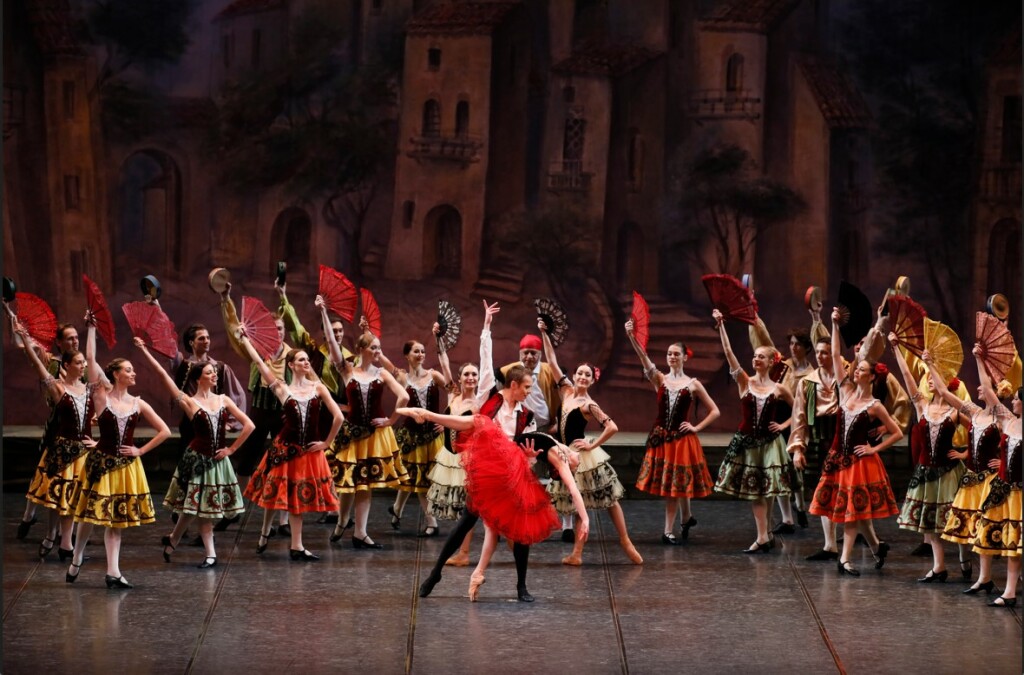 Photo by Hidemi Seto
As part of the National Ukrainian Ballet's Japan tour this winter, the prestigious ballet company will be performing in Iwaki City on Friday December 23!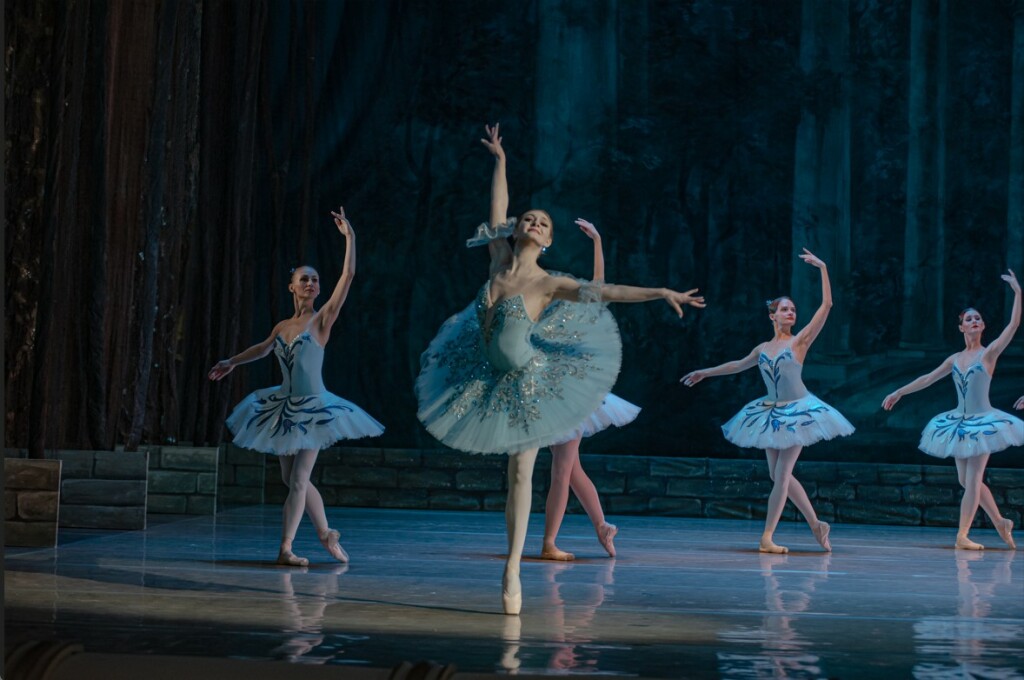 This is a unique opportunity to support the National Ukrainian Ballet and watch their dazzling performance of Don Quixote on the day before Christmas Eve.
Event Details
Place

:

Alios Iwaki Performing Arts Center

(いわき芸術文化交流館アリオス)
Time

: 18:30 (doors open at 17:45)

Date

: Friday December 23, 2022

Fee: Ticket prices vary depending on the seats (starting at ¥4000). See website for details (available only in Japanese).
2. Visit Iwaki Yumoto Onsen Town & Spa Resort Hawaiians
Iwaki Yumoto Onsen is a nostalgic onsen town packed with attractions.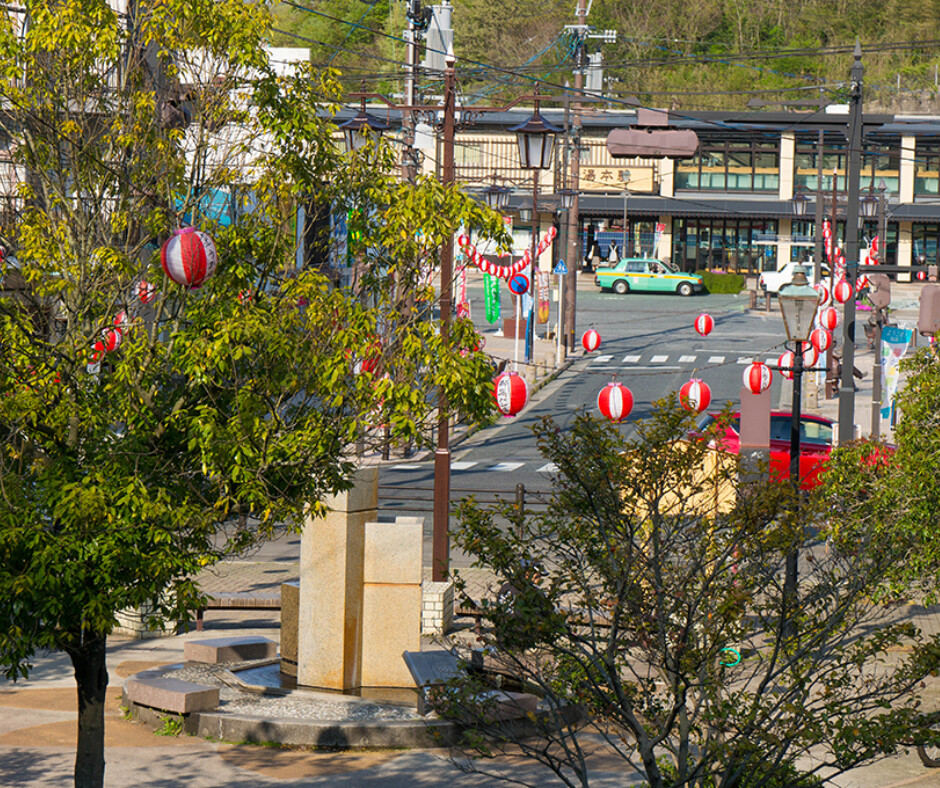 Apart from relaxing in its hot springs—which are among the oldest in Japan and popular for their skin-beautifying properties—, you can appreciate the townscape views from the tranquil Onsen Shrine, try fresh seafood at the local restaurants or roam its traditional sweet shops.
We recommend kicking off your visit by soaking your feet in the warm waters of the public foot bath in front of Yumoto Onsen station!
The public foot bath at Yumoto Onsen Station
Known as the place where Japanese tradition meets "hula", Spa Resort Hawaiians is a resort, water park and spa complex located nearby, which uses 3.5 tons of fresh hot springs per minute from Yumoto Onsen.
Spa Resort Hawaiians has both regular onsen facilities and onsen in which you can enter wearing a swimsuit!
Read more about Iwaki Yumoto Onsen and Spa Resort Hawaiians.
3.
New Year's at Aquamarine Fukushima
While most attractions in Japan close during New Year holidays, Aquamarine Fukushima, an environmental aquarium and research center, remains open throughout the holiday season and is hosting a fun New Year event!
Children love meeting their favorite sea animals at Aquamarine Fukushima all year round, and during this special event they can also fetch goods using fishing rods and watch drum performances (see official website for specific dates and times).
Event Details
Place: Aquamarine Fukushima (アクアマリンふくしま)
Time: 08:00-17:30 in the winter season (open until 18:00 during other seasons)
Date: This event goes from December 28, 2022 to January 9, 2023. However, anytime is a good time to visit Aquamarine Fukushima!
Fee: General admission ¥1850, children (high school to elementary school) ¥900. There is a limited-time promotion that runs from December 1 2022 to March 31, 2023 called "Love Couple Ticket", which is ¥3500 for two people (this includes access to the drink bar).
This ticket is sold only at Seven Eleven convenience stores, and is not available for purchase at Aquamarine Fukushima. See more information here.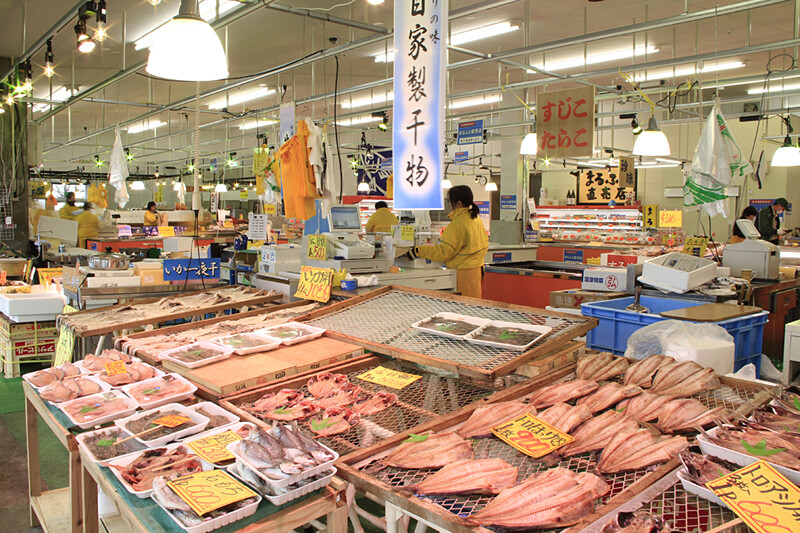 4. Eat, shop and sightsee at Iwaki Lalamew
Iwaki isn't only known for its spectacular coast but also for its gastronomy, and no visit to Iwaki is complete without tasting its specialties—in fact, visiting Iwaki with the sole purpose of trying out its fresh seafood dishes is entirely justified!
Iwaki's Tourism and Products Center, Iwaki Lalamew, is a hub of restaurants, souvenir stores, fish shops, and even a Kids Play zone!
Here, you can enjoy shopping and dining with the entire family and even take a sightseeing cruise to enjoy the sights of Iwaki by sea.
Read more about Iwaki Lalamew here.
5. Enjoy the Forest of Light Illumination Event at Nijuisseiki-no-Mori Park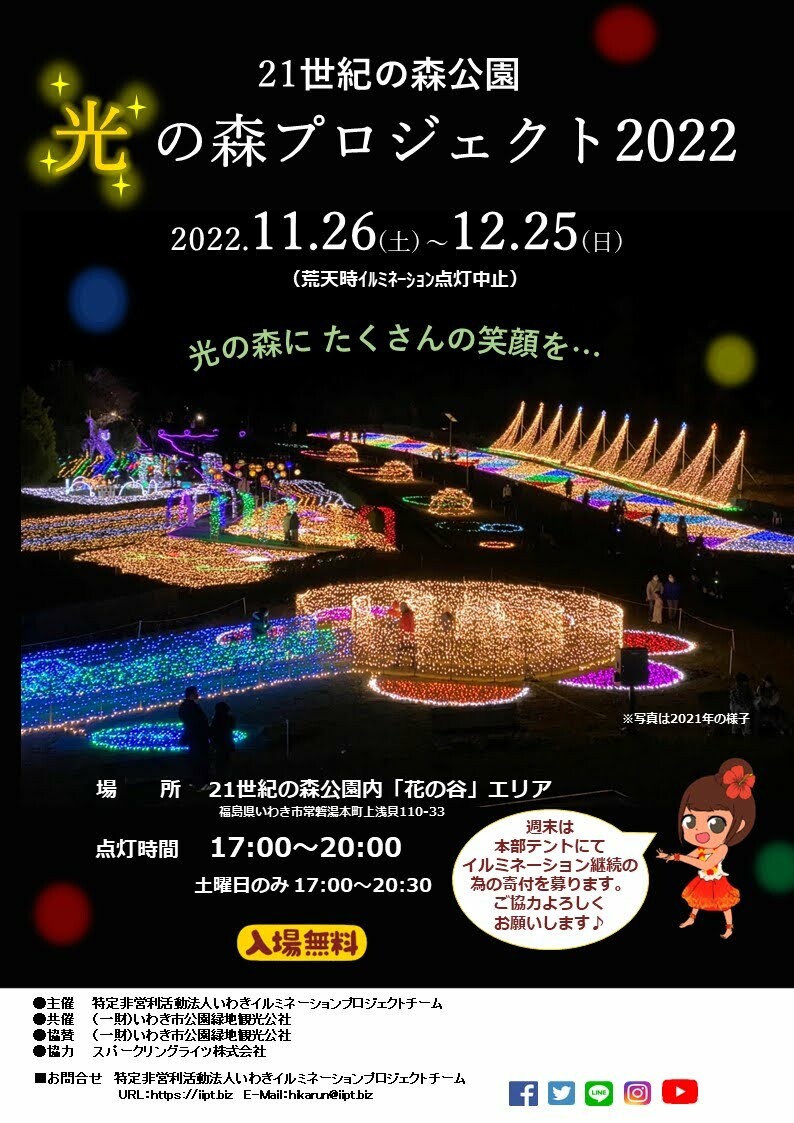 Image courtesy of Iwaki Illumination Project Team
Illumination events certainly brighten up harsh winter nights. During the Forest of Light Illumination Event at Nijuisseiki-no-Mori Park (21世紀の森公園) in Iwaki City, over 150,000 light bulbs light up the flower beds of the park, a beautiful sight that awes children and adults alike!
We recommend visiting during the weekends, when there are also food trucks and special events (check official website for details). We also featured this event in our post titled 6 Fun Things to Do in Fukushima in December 2022.
How to get to Iwaki
There are many ways to get to Iwaki from Tokyo and other cities in Japan!
By Train from Shinagawa, Tokyo or Ueno Stations to Iwaki Station:
JR Joban Line's Hitachi trains (Tokiwa trains don't go to Iwaki!).

Travel time: Less than 3 hours (the exact time depends on the point of departure and which train you take)

Cost:

¥

6290 one way (as of December 2022).
This trip is covered by the JR East Tohoku Pass.
By bus from Tokyo Station to Iwaki Station:
JR Tokyo-Iwaki Highway Bus

Travel time: Approximately 3 hours

Cost:

¥

3800 one way (as of December 2022).
By Train from Koriyama Station (Fukushima) to Iwaki Station:
JR Ban-etsu East Line

Travel time: Approximately 1 hour 40 minutes

Cost:

¥

1690 one way (as of December 2022)
This trip is covered by the JR East Tohoku Pass.