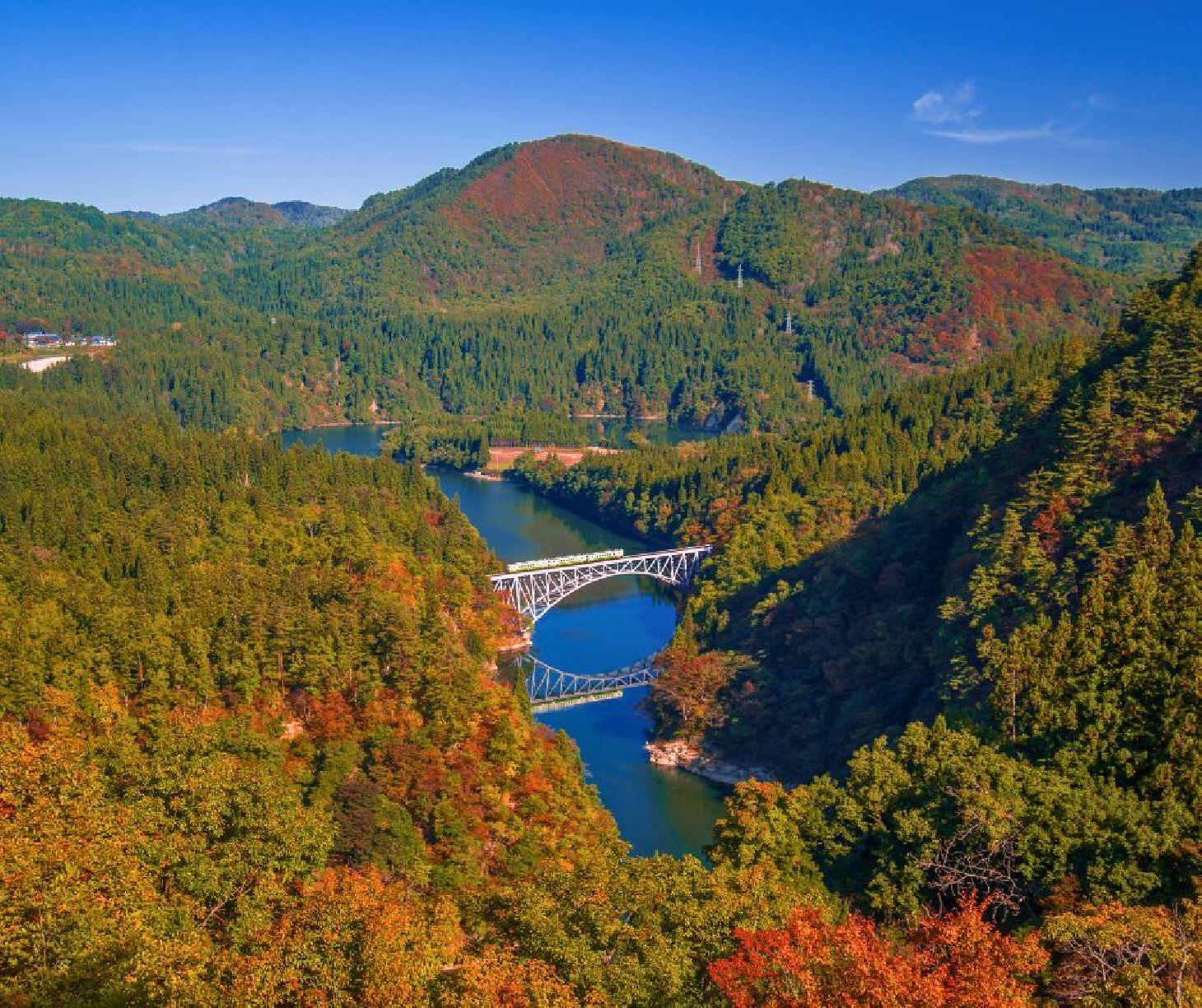 About the Japan Rail Pass & the Japan Rail Pass Tohoku
The Japan Rail Pass (JR Pass) is a travel pass that allows foreign visitors in Japan to ride freely on JR lines, shinkansen (bullet trains), and JR buses for a set price during a fixed period.
The Japan Rail Pass Tohoku (JR Pass Tohoku) is another travel pass available for both foreign visitors and foreign residents in Japan that allows for unlimited travel within a designated area comprising some parts of Kanto (Tokyo, Yokohama, Chiba, etc.) and Tohoku (Fukushima, Miyagi, Akita, Yamagata, and Aomori) during a set period.
In this post, we introduce attractions and experiences in Fukushima Prefecture that are easily accessible for visitors both on the regular JR Pass and the JR Pass Tohoku.
Trips on the JR Pass
Aizu Area
1. Immerse Yourself in Samurai History in Aizu-Wakamatsu City
It is no wonder why Aizu-Wakamatsu is one of the main attractions in Fukushima. This historical city was one of the last strongholds of the samurai and is packed with beautiful natural attractions and historical sites, like Tsurugajo Castle or Sazaedo temple. You can reach Aizu-Wakamatsu Station from Tokyo in approx. 3 hours (bullet train + local JR line train, fully covered by either of the JR passes).
ℹ️ To move comfortably around the city it is best to rent a car or buy a one-day pass for the local loop bus (600 yen, not included in the JR Pass) that will take you to the main attractions.
2. Take a scenic train ride on the JR Tadami Line
Some train rides are not just a means of transport, but an attraction in themselves. That is the case of the JR Tadami Line trains that run between Aizu-Wakamatsu City in Fukushima Prefecture and Koide in Niigata Prefecture. Known for its stunning views of rural towns, rice fields, and forest-covered mountains, this is a famous scenic train ride that is growing in popularity among visitors.
ℹ️JR Tadami Line trains only run a few times a day, so please check the schedule before your visit.
ℹ️Note that only the stretch between Aizu-Wakamatsu Station and Tadami Station is covered by the JR Pass Tohoku.
ℹ️Trains may become canceled due to heavy snowfall in the winter (December-March).
Central Area
3. Shirakawa: Komine Castle, Specialty Ramen & Daruma Painting
The beautifully restored Komine Castle, with its striking black-and-white structure and lush gardens, is a powerful symbol of Shirakawa, located only a few minutes walk from the JR Shirakawa Station (only a short train ride away on the JR Tohoku Line from the Shin-Shirakawa shinkansen Station).
After exploring the castle, indulge in a bowl of hearty ramen (a specialty of the area) and end your visit to Shirakawa by shopping for a Daruma lucky doll at the nearby Daruma Land. If you would like to explore more, take a local bus (not included in the JR Pass) to a very special park that looks breathtaking in the autumn and spring.
Recommended seasons

:

Cherry blossom season (typically mid-April to early May)

Autumn foliage season (typically late October to early November)

February 11 (

Shirakawa Daruma Market

)
4. Nihonmatsu: Kasumigajo Castle Grounds, Sake Tasting & Drift Taxi Experience
Nihonmatsu is an area with natural features that make it perfect for the cultivation of rice and the production of sake. After arriving at the JR Nihonmatsu Station, visit the Kasumigajo Castle Grounds, and go sake tasting at a local brewery.
If you are feeling adventurous, why not try the Drift Taxi Experience at the Ebisu Circuit? You will need to make a reservation beforehand and arrange how to get there in advance, but the thrill of the experience will surely be unforgettable.
Recommended seasons:

Cherry blossom season (typically around mid-April). Each year there are 'sakura matsuri' (cherry blossom festivals) celebrated at the Kasumigajo Castle Grounds.

Autumn festivals (October-mid November). The

Nihonmatsu Lantern Festival

is held every year on the first Saturday, Sunday, and Monday of October, while the

Nihonmatsu Chrysanthemum Doll Festival

(Nihonmatsu Kiku Ningyo) is held from Mid-October to Mid-November each year.

The Ebisu Circuit is typically unavailable during the winter (December-April).
Coastal Area
5. Ride next to the seaside on the JR Joban Line
The JR Joban Line connects the Tokyo area to Sendai through Chiba, Ibaraki, and Fukushima Prefectures. You can enjoy a scenic ride along the seaside in Fukushima's coastal area, stop by Yumoto Onsen, or visit a famous novelist's book cafe in Odaka Station. Wherever you choose to stop, you are sure to enjoy the best views of the Pacific Ocean through the train window.
6. Learn about Fukushima's reconstruction in Futaba
Futaba town was profoundly affected by the triple disaster of 2011 and has now become a powerful symbol of Fukushima's recovery. Although the town had to be evacuated in 2011, some of the evacuation orders were lifted, and new initiatives, such as the Great East Japan Earthquake and Nuclear Disaster Memorial Museum, and the Futaba Art District, revitalized the area. Visitors can walk around the town and visit the museum to learn more about Fukushima's recent history and recovery.
Shinkansen and JR Trains in Fukushima
Fukushima has three Shinkansen Stations: Shin-Shirakawa, Koriyama, and Fukushima.
To reach Fukushima from Tokyo, you can take either the JR Tohoku Shinkansen or the JR Yamagata Shinkansen from Tokyo Station or Ueno Station and get off at any of the three stations mentioned above. It is also possible to reach Fukushima by highway bus, local JR trains, and more. See our Access page for more information about getting to Fukushima.
Please bear in mind that local trains and buses have fewer frequencies than in big cities like Tokyo, Osaka, etc., so we recommend checking the schedules before you travel.